DECADE Golf Review: This Course Management System is a Golf Cheat Code
Don't you hate it when you waste shots on the golf course from poor decision-making?
For example, let's say you have a 188 yard approach into the green of a tough, long par 4. The pin is tucked back left and you normally play a cut shot. Everything about the shot feels uncomfortable.
The rational side of your mind says, "Aim at the middle of the green, play your cut, and be happy with the middle of the green." But then the emotional side of your mind comes in and says, "Play a draw so you can hit it close"... Knowing full well that 188 yard is far from a "go zone."
Nothing about the shot inspires confidence but you're feeling good and decide to hit a draw to "get it close." Over the ball you feel the doubt and indecision with your shot shape.
You put an uncommitted swing on it from playing too aggressively and have to scramble to save par (or bogey). Ten seconds later, you're fuming mad and say to yourself, "Why didn't I just hit it in the middle of the green?"
Trust me, I've been there more times than I can count. There's nothing worse than making simple course management mistakes that lead to costly bogeys and doubles.
It wasn't until I discovered the genius within DECADE that I learned to stop making these kinds of stupid mistakes. After learning this system, I rarely have any doubt on where I should aim or what type of shot I should play.
Keep reading to learn how this course management system helped me become a top 25 ranked amateur golfer in Arizona.
DECADE Golf Review
Heading into 2022, I wanted to find something to help take my game to the next level. The previous season I ranked 45th in AGA (Arizona Golf Association) and set a goal to make it in the top 10 for 2022. Arizona has tons of great amateur golfers so I knew I had to improve all aspects of my game.
Luckily, I had heard about this program called DECADE from several competitors and even heard it mentioned on TV. I figured if the best golfers in the world were using this system and competing for that kind of money, I should give it a shot too.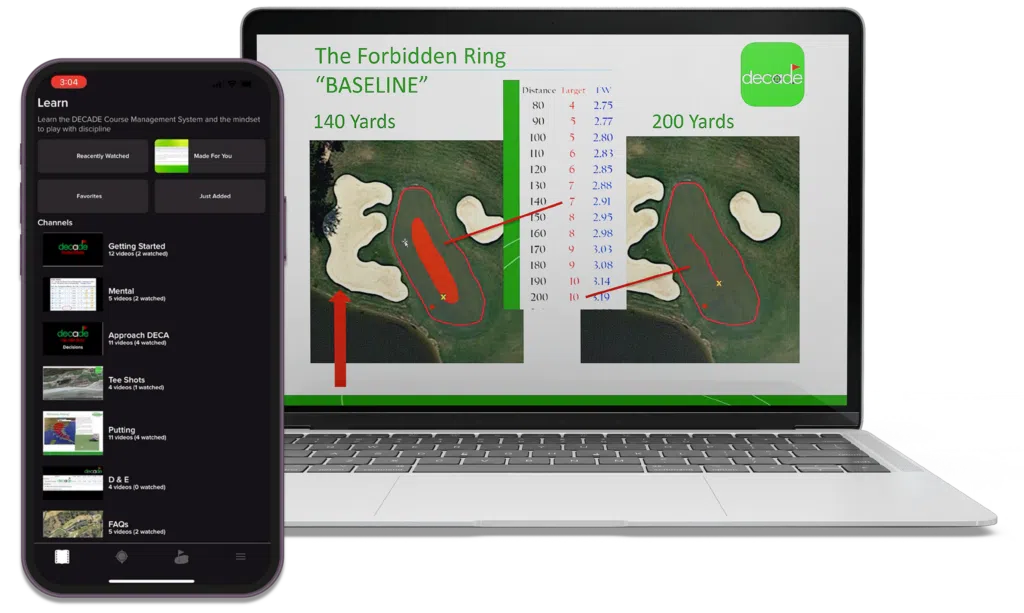 What is DECADE Golf?
So, what is DECADE anyway?
According to their website, "The DECADE Course Management System, created by Scott Fawcett, has solved golf strategy by combining shot distribution patterns and PGA Tour scoring statistics. When Scott combined those two data sets he created a simple way to optimize target selection."
When I first joined I didn't know how much greatness was in this system. I honestly thought it was a "wicked smart" way to track your statistics more than anything else. While it does that incredibly well, the best part is the four hours worth of video lessons.
These bite-sized videos will help you learn more about course management than you ever thought possible. Some of the topics inside the four hours of training include:
Recovery shots

Shaping approach shots

How to analyze lies and pins

Understanding target selection

The best ways to play practice rounds

Why you should only play one type of tee shot

How to use Google Earth to research the course

How to play like Tiger (and learn the "Tiger 5" rules)
And so much more! I was honestly blown away with the content - despite having 20+ years experience in this game and being a golf writer.
Before getting into all the great stuff, let's rewind to figure out how this system started because it's quite a story.
History of DECADE Golf
DECADE originally was a system that Scott Fawcett intended to use for his own game. He has a background in mathematics (three degrees) and is the epitome of wicked smart, on and off the golf course.
After regaining his amateur status, his goal was to win the Mid-Am championship because doing so means you get to play in the Masters (this is also one of my biggest goals of all time).
But an injury sidelined him before he could test his theories. So he asked a junior golfer at his club if he could caddy for him and implement his system. Scott saw the potential in this junior golfer and knew that his swing was more than good enough.
At the time, this junior golfer was ranked about 3,000 in the world. According to the DECADE website, "He vaulted from being ranked outside the top 3,000 to #3 in the world in THREE MONTHS! Along the way he won the U.S. Junior Championship, the Texas Amateur, and the TransMiss Championship."
So, who was this junior anyway?
Will Zalatoris.
Scott helped Will reach his full potential and become a top amateur in the world. Now, he's chasing majors on the PGA Tour.
Word spread quickly about this new system and college coaches brought in Scott to educate their players on this new process. Will wasn't a fluke either, another player used it to find massive success as an amateur golfer - Bryson DeChambeau. He used it to win the 2015 US Amateur and still uses some of the principles as a professional golfer.
Now, thousands of amateurs, mini-tour pros, and PGA Tour professionals use this incredible system.
To learn more about the history of DECADE and Scott Fawcett, listen to my interview with him below or check out episode #46.
What does DECADE stand for?
You might have wondered, what does the acronym for DECADE even mean? This system will teach you course management principles in a few hours that take most players a "decade" to learn. Here's what it means...
D = Distance

E = Expectation

C = Correct Target

A = Analyze

D = Discipline

E = Execute
Inside the program, Scott goes in-depth explaining how each of these principles can help you become a wicked smart golfer.
If you want to learn more about this course management system, there are two options; DECADE Foundation and Elite.
DECADE Foundation
DECADE Foundation is the "lite" version of this program and great for less experienced players. If you're a junior or 10+ handicap, this is the right choice. It slowly releases content over a six-month period in short, easy to understand videos. This helps avoid overwhelm so you learn this system slowly and can apply to your game over time.
Here is a breakdown of what you will learn each month:
1st Month

: Learn about strokes gained, shot patterns, picking targets, shot shaping, and more. This month helps build a strong foundation to apply the rest of the principles in the coming months.

2nd Month:

Dive into recovery shots, putting drills, learning from Tiger, and how to develop patience on the golf course.

3rd Month

: Learn how to deal with hazards and figure out if aggressive or conservative is the right choice with all types of shots.

4th Month

: Dive into tee shots, short game, and how to develop a world-class mindset to shoot lower scores.

5th Month

: Learn how to make the most of practice rounds, how to use the custom yardage books, and apply all of the principles to your game.

6th Month

: Finish the program with understanding wind, course conditions, and learning when to get aggressive.
At the time of publishing this blog post, the Foundations program is $125 for six months of access. After that it renews automatically but you can cancel anytime.
DECADE Elite
The Elite option has everything from the Foundations program and a lot more. This is made for serious golfers only as it has more than four hours of seminar training.
According to the company, "It includes a robust, video game-like stat tracking system called DECADELink. It allows you to keep your stats and benchmark them against your peer group, not just the PGA Tour. If you are a highly skilled player looking to improve your game even further, DECADE Elite is for you."
The "video-game like entry" process to enter your stats is awesome. I use it after every tournament round to see which areas of my game were solid and which needed work. This alone makes it unlike any other stat tracking app I've used before.
The Elite program also has coaching moments to learn how the best golfers in the world manage their game in tournaments. It's fun to see Scott take you through recent events of his own (including going to Q-School) and summarize the strategy of PGA Tour players.
At the time of publishing this blog post the Elite is $250 for six months or $325 for 12 months. Following the original billing period it's $19.95/month and you can cancel anytime.
5 Biggest Lessons from DECADE Golf
I've gone through the DECADE program multiple times and have about 20 pages of notes (seriously). While I highly encourage you to enroll and reap the benefits, I still wanted to share some of my best learnings in case you aren't ready to pull the trigger (yet).
Use these five lessons from DECADE to start playing more like a wicked smart golfer.
1. Stop Trying to Make Birdies
As Scott discusses a lot in the program, golf is not about making more birdies… it's about making fewer bogeys. The easiest way to avoid pointless bogeys is by not short siding yourself on appraoch shots.
If you do miss the green, it's important to miss away from the pin for an easier chip. As Tiger and other professional golfers like to say "good misses."
When you miss on the correct side of the hole and don't play overly aggressively, you don't invite big numbers on your scorecard.
2. Play One Shot Shape
If you're like most golfers you probably try to shape shots based on the fairway or pin location.
For example, I used to try to hit a draw on holes that would dogleg to the left, despite normally hitting a cut off the tee. Sometimes it worked out but more often than not my drive was out of position as it wasn't my naturla swing.
As Scott points out inside the program, 99.9% of golfers would benefit from playing one shot shape, espeically off thee… regardless of the hole layout.
I did this in the 2022 season and it worked wonders for my game. It helped me understand my swing better and essentially eliminated one side of the golf course by playing the same shot over and over.
Plus, as he pointed out in our podcast episode, changing shot shapes with driver is hard. Since you can't adjust ball position (well, shouldn't adjust ball position), you have to manipulate your swing. This can lead to a lot of uncommitted swings and two-way misses.
3. Aim for the Middle of the Green More Often
Aiming at the middle of the green is boring and not very sexy… but it's how you shoot lower scores quickly. Once you learn the data, it becomes evident why aiming at most pins is a bad idea unless you have a wedge in hand.
Here's a good rule for average golfers, anything outside 140 yards, aim for the middle of the green. I can almost guarantee that you will have more greens in regulation and when you do miss, have easier up and downs.
But when you do have shorter distances, it's time to aim for the flag or closer to it. DECADE makes it easy to understand approach shot straetgy once you go through all the trainings.
4. Expect Shot Dispersion
One of the craziest facts I learned inside the program is how big your shot dispersion is with a driver. He references Jason Day during the 2014 PGA Tour season; at the time he was #1 in strokes gained off the tee. Yet, he had a 74-yard shot dispersion with his driver… and he was the top-ranked pro when it came to hitting tee balls.
Needless to say, you are going to hit a lot of shots right and left of your intended target. If the pros can't hit it dead straight every time, neither will you. Expect this and plan accordingly when hitting the driver.
If you don't have a 60-yard target (from rough to rough), you probably shouldn't hit a driver. He also has a great decision tree that makes it clear when to hit the driver and when to dial back to 3-wood or hybrid.
5. Stop Wasting Shots from the Trees
Lastly, he has a few great videos breaking down how to manage your game when you get into trouble.
Most golfers, especially amateurs, try to make magic from the trees or other trouble. While they might pull the shot off occasionally, most times it leads to double bogeys or worse.
Scott makes it easy to see why you should get the ball back in play and how to navigate trouble. To hear more about my experience with DECADE, listen to episode #19 on Wicked Smart Golf Podcast.
Questions About DECADE Golf
If you have more questions about this awesome program, keep scrolling to learn if it's the right system for your golf game.
What does DECADE golf cost?
There are two options; DECADE Elite and Foundations. The Foundations is $125 for six months while the Elite is $250 for six months.
The foundations program releases the content slower over a six-month period to make it easier to understand. This is perfect for beginners, juniors, and players with a handicap of 10 or more. But if you're a more experienced golfer or competitive player, opt for the Elite.
Is the DECADE golf app free?
You need to join one of the paid programs to use all the features inside the DECADE app.
What is the DECADE Elite?
DECADE Elite is the upgraded option for serious players who want the most instruction possible. This has tons of content to help you understand shots gained statistics and take your game to the next level. This is not for the casual golfer as there is a ton of information.
The Elite program comes with everything in the Foundations program plus:
Live seminar and camp rates

Detailed analysis of your game

Custom content based on your stats profile

Strokes gained vs. top 50 amateurs vs. college players

Four custom yardage books per month (only one is included per month in Foundations)
Who uses DECADE golf?
The first player to implement this system (aside from Scott) was Will Zalatoris in the summer of 2014. He used it to go from outside the top 3,000 to #3 in the world. Not to mention, he accomplished this incredible feat in only three months.
During his incredible ascent he won the Texas Amateur, U.S. Junior Amateur, and TransMiss Championship. Now, he's a regular on the PGA Tour and one of the most exciting young players to watch on TV.
Is DECADE golf worth it?
YES! It's more than worth the small investment.
The principles inside this program are like getting a PhD in course management. I've seen so many results in my own game and often wonder how I made decisions before! If you're serious about improving your scores, this is a no-brainer decision.
Stop wasting more money on golf gadgets or clubs and instead, learn this system. Trust me, your handicap will thank you!
Closing Thoughts
DECADE is a literal game changer.
The course management lessons inside are truly unique and use ShotLink data to help you learn how to make better decisions. Using the strokes gained data you can learn where to aim and how to play all types of holes.
The numbers don't lie and having these benchmarks makes it easier to pick the right club/target and swing with confidence. Plus, you can track your stats and compare your numbers with pros and top amateurs to learn where you need to improve in practice.
I learned more going through the DECADE system that I had from playing tons of tournament golf and reading countless golf books. Ever since I started implementing this program into my game, my scores are lower than ever. Not to mention I have more confidence in myself and my abilities (even on off days).
Paired with PuttView yardage books and Mental Golf Type - these three resources are the tri-fecta to playing WICKED SMART GOLF.